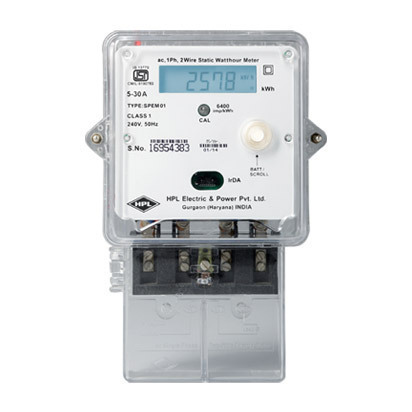 Energy Meter
Product Code : EM101
Product Description
| | |
| --- | --- |
| Minimum Order Quantity | 10 Piece |
| Brand | HPL, LnT, Secure and Genus |
| Usage | Industrial |
Salient Features
Latest ASIC and Microcontroller based digital technology.
Instantaneous Start.
Meter Records correct energy with same accuracy under reverse current connection.
Available with LCD type display.
Multi Function Meter.
Tamper proof Design.
No frequent adjustments required.
No mechanical wear tear.
It is available in Single Phase, Two Wire accuracy class-1.
Immune to effects of external magnetic field as per IS : 13779
Application
Residential,Industrial and Commercial Complexes etc.
Item Code:
SPPL1320010000OC00, SPPL1510000000OCH0, SPPB1321120000ME03, SPPB1521120000ME03, SPPB1521011000OC00, SPPL1520010002OC01
Dimensions:
112mm*166mm*68mm
Phase:
Single Phase Two Wire
Application
LT Network
Parameters Available
kWh, V, I, kW, six months history of Energy MD in kW
Reference Voltage:
240V
Starting Current:
0.4% of Ib
Current Rating
5-30A,10-60A
Power Consumption:
Less than 1.0 watt
Class Accuracy:
1.0s
Wiring Arrangment:
| | |
| --- | --- |
| Minimum Order Quantity | 10 Piece |
| Brand | HPL, LnT, Secure and Genus |
| Usage | Industrial |
Salient Features
Latest ASIC and Microcontroller based digital technology.
Instantaneous Start.
Meter Records correct energy with same accuracy under reverse current connection.
Available with LCD type display.
Multi Function Meter.
Tamper proof Design.
No frequent adjustments required.
No mechanical wear tear.
It is available in Single Phase, Two Wire accuracy class-1.
Immune to effects of external magnetic field as per IS : 13779
Application
Residential,Industrial and Commercial Complexes etc.
Item Code:
SPPL1320010000OC00, SPPL1510000000OCH0, SPPB1321120000ME03, SPPB1521120000ME03, SPPB1521011000OC00, SPPL1520010002OC01
Dimensions:
112mm*166mm*68mm
Phase:
Single Phase Two Wire
Application
LT Network
Parameters Available
kWh, V, I, kW, six months history of Energy MD in kW
Reference Voltage:
240V
Starting Current:
0.4% of Ib
Current Rating
5-30A,10-60A
Power Consumption:
Less than 1.0 watt
Class Accuracy:
1.0s
Wiring Arrangment: