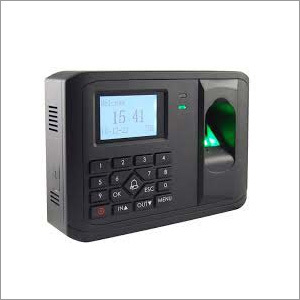 Product Description
Access Control System is the ability to permit or deny the use of a particular resource by a particular entity. Access control mechanisms can be used in managing physical resources (such as a movie theater, to which only ticket holders should be admitted), logical resources (a bank account, with a limited number of people authorized to make a withdrawal), or digital resources (for example, a private text document on a computer, which only certain users should be able to read). When a credential is presented to a reader, the reader sends the credentiala information, usually a number, to a control panel, a highly reliable processor. The control panel compares the credential's number to an access control list, grants or denies the presented request, and sends a transaction log to a database. We are a dependable Manufacturer, Exporter and Supplier Access Control System. When access is denied based on the access control list, the door remains locked. If there is a match between the credential and the access control list, the control panel operates a relay that in turn unlocks the door. The control panel also ignores a door open signal to prevent an alarm. Often the reader provides feedback, such as a flashing red LED for an access denied and a flashing green LED for an access granted. This Access Control System is known for monitoring traffic in a particular location as well as used for keeping a track record of the employeesa attendance.
GEESYS Access Control System
Time & attendance

Standalone

Bio-metric

Boom Barrier

Panic bar

IP based

Door Interlocking

Visitor management
Introduction : Array Junction Box (AJB), Access Control System is a security concept of restricting I controlling the access to authorized persons only. GEESYS provides a comprehensive solutions that could fulfill every security needs on all areas where people are on the move. We are the perfect choice for you if the need to regulate and control the flow of people - anywhere from places with lower security demands to the highest security susceptible to threats – arises. Simply put, by having our Entrance Control solutions, we could give you and your people a safe and secure environment.
Highlights
Automatic Boom Barriers offer efficient security at the exit and the entry points of Factories, Ofiioe Complexes, Condominiums, Parking Lots, Toll Tax Plazas or any roadway entry where medium to heavy traffic is expected.

Designed for heavy-duty operation with sleek and modern looks

An inbuilt anti - crush safety devioe suspends the motion of the barrier, should it meet any obstruction.

Optional beam sensor provides further protection to vehicles.

Dual speed of the barrier optimizes time and maximizes safety. This unique feature ensures quick opening and

closing of the barrier with soft landing.

Duration of fast and slow speeds is programmed at the time of installation

according to the length of the boom and the frequency of traffic expected.
Entire system is powered by 24 Volts DC to avoid electrocution and to integrate barrier with other peripheral safety devices such as access control system, optical beam sensor, etc. for greater flexibility and added safety.
The barrier is activated either by a single touch push button or remote control. However its electronic control panel is designed to accept signals from various controls and safety accessories such as Beam sensor (optional), Magnetic Card, Reader (optional), Computer, etc.
Features
Asset Protection

Prevention of Illegal Entries

Enhancement of Personal Safety

Reduction of Security Costs

Facilities Management

Cost of ownership by the user is very low, with no separate computers or software to maintain or update

E-mail alerts of alarm and/or invalid credential presentation can be enabled

Web-based systems can be a single controller panel, or many spread across multiple buildings and locations
Applications
Banking & Finance

Government Offices

Software Companies

Drugs, Medical Equipment & Pharmaceuticals

Infrastructure Developers & Interior Decorators

Manufacturing Industries
Feature
Brand name :

GEESYS

Fingerprint capacity:

Biometric
Additional information
Payment Terms: L/C, D/A, T/T